ABOUT US
Chinese Massage is founded to offer therapeutic traditional and natural therapeutic services including acupressure and foot reflexology.
These two services are ancient chinese healing methods with more than 4,000 years of history, and are now actively practiced around the world.
They are a vital part of preventive care which provides relaxation and rejuvenation for all the aspects of a person as a whole: body, emotions, mind and spirit. Invest a little in maintaining a good health in a long run.
Come and explore the remarkable power of our service. Let us be an integral part of your health maintance regiment and help you to live a quality life!
Accupressure had its beginning 5,000 years ago in china. Chinese discovered that the human body has
fourteen invite meridians that carry energy throughout the body. The aim of acupressure is to accomplish
that by applying pressure through clothing on pressure points along the meridian lines.
Research studies and practitioners around the world have found acupressure to be a highly effective and
natural way at alleviating or improving wide variety of health conditions, including:
Relax mind and body
Headaches / shoulder / back pain
Sinus problem
Joint and muscular tension & pain
Increase blood circulation
Control appetite and metabolism
Delay aging of skin
Maintain muscle tone
Increase energy level and overall feeling of well-being
REFLEXOLOGY
Our feet are microcosms or maps of our entire body. They contain thousands of tiny nerves called
reflexes that correspond to every organ and system within the body. Pressuring each reflex send
feedback to related body part to strengthen its inherent healing capability and normalize body functions.
Reflexology helps many health problems in a natural way. It is very safe and effective preventive care
method and will not make any condition worse. It has been proven to be particularly important in
alleviating and helping health problems as diverse as:
Sleeping disorders
Digestive disorders
Fatigue and depression
Arthritis
Hormonal imbalance
Stress-related conditions
Aid in the removal of toxic wastes
And more....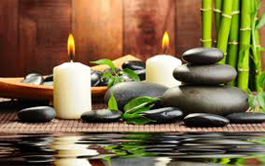 This place is awesome! If you like no-frill
Chinese massages with deep pressure, this
is the place to go! The ...
(Cynthia K., 2 months ago)

Everytime I visit DC, I stop by this ZEN
Massage Great value, I love the heated
massage beds. Each room I've ...
(Laura L. , 8 months ago)

This was the best massage place I've been
to. Just before I get on the metro I can get
a massage in the mall, ...
(R R. , 8 months ago)

Chevy Chase Center
9 Wisconsin Circle,

Chevy Chase, MD 20815
Business Hours
Mon - Sat : 10:30am - 9:00pm

Sun.: 11:30am - 7:00pm